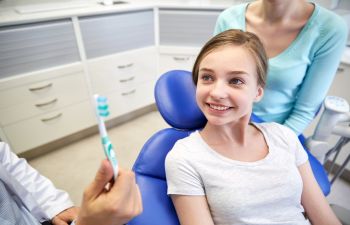 Our schedules are busy with kids going back to school and after school activities. We cannot let our busy schedules keep us from neglecting our children's dental health. Maintaining regular dental check-ups are just as important as well visits for your children with their pediatrician. During the summer kids tend to be more relaxed in their brushing and flossing which could lead to dental problems. Get your children back on track and start the school year right with a dental exam. The dental team at Ora Dentistry is ready to help your child get back on track with their dental habits.
Healthy dental habits are as important as having good manners. The health of your mouth should be part of the routine for your child's preventative health care. According to the American Academy of Pediatric Dentistry, students miss more than 51 million school hours per year because of dental problems. To avoid missing school, it is important for the child to establish good dental hygiene.
Healthy dental habits should include:
Brush teeth at least twice a day
Floss teeth at least once a day
Use fluoride toothpaste
Eating healthy and avoiding frequent sugary or starchy snacks
Visit dentist at least twice a year for routine check-ups
Expert Pediatric Dental Care in Elk Grove
Ora Dentistry in Elk Grove specializes in helping your child know the importance of oral health and developing good oral hygiene habits. During a regular dental exam, the dental team will check for any oral health problems like tartar or plaque buildup, cavities, and tooth decay that could cause potential problems later on if not treated. Ora Dentistry wants to help your child feel comfortable when visiting the dentist and will ensure their dental visit is a positive one.
Call Ora Dentistry today to schedule your child's back to school dental check-up.
Posted on behalf of Ora Dentistry
2733 Elk Grove Blvd, Suite 180
Elk Grove, CA 95758
Phone: (916) 975-1000
Email: [email protected]
Monday - Thursday 7:00am - 5:00pm
Friday 7:00am - 4:00pm