Dental Technology
Dentistry is an ever-changing medical field where technology is constantly improving for better care. At Ora Dentistry, we utilize the latest technology options to provide efficient, effective care for our patients. With improved imagery, tools and options for painless injections, we can ensure our patients get the best care available in our dentist office in Elk Grove.
Technology in dentistry has advanced to help improve the level of dental care available. Improved imagery can identify dental issues quicker so that treatments can be performed before they become larger problems. It also helps make the experience less stressful for patients, shortening the time needed for care and reducing the discomfort when receiving injections. It is our mission to utilize any technology that will make dental care more efficient for us and our patients.
MODJAW
CBCT Imaging
Cone-beam computed tomography systems (CBCT) are an advanced form of x-rays that are used to create 3D images for improved dentistry. This advanced level of imagery is a vital component in our implant dentistry procedures where we need to surgically place posts into the jaw bone. CBCT imaging can also be utilized for other dental issues as well, giving a high-level three-dimensional view of the jaw, teeth and tissues in the mouth region.
TRIOS (3Shape Digital Scanner)
High quality digital impressions are obtained easily and comfortably with greater reliability using the TRIOS 3Shape Digital Scanner. As the world's leading true color digital scanner, 3Shade TRIOS is a three in one solution, eliminating messy impressions and allowing for perfect shade matching and more predictable treatment planning.
SoproCARE Intraoral Camera
Using advanced fluorescent technology and LED lighting, SOPROCARE operates as an intraoral camera, making dental examinations comprehensive and time efficient. The SOPROCARE concept also allows for easy detection of caries (cavities), plaque, tartar, and gingival inflammation. Thus, as a diagnostic tool, SOPROCARE helps dentists and patients understand what type of treatment is needed and why.
VITA Easyshade V
With an innovative concept allowing for exact tooth-shade determination, the VITA Easyshade V is a high precision technology that makes daily dental treatments easier and more accurate. When it comes to dental restorations, CAD/CAM materials, and cosmetic corrections, there is no guesswork involved with the 5th generation VITA Easyshade.
CT-SCAN 3D (Rayscan Alpha Plus)
With a light-guided field-of-view and fast image reconstruction (less than 5 seconds), the RAYSCAN Alpha Plus allows dentists to see the exact area begin scanned. With less errors and retakes, this advanced imaging system helps dental professionals take high-resolution images (less than 70 um) with a FOV (field of view) that can be adjusted, allowing for the least amount of radiation. Diagnosis and treatment planning are unparalleled, and can be used with precision in Root Canal procedures, Dental Implants, and even TMD and Sleep Apnea.
ELECTRIC HANDPIECES
While Electric Handpieces make tooth preparation easy and more precise, patients benefit from less noise (approximately 65%), little to no vibration, and less time in the dental chair.
PIEZO SCALING
For greater effectiveness during routine dental examinations and cleanings, as well as patient safety, Piezo Scaling allows dentists to use different inserts or tips for specific procedures or areas of the mouth. The result is easier removal of decay, plaque, and tartar and greater accuracy during dental procedures. In addition, there are fewer traumas to adjacent teeth and soft tissues.
PIEZO SURGERY
Piezoelectric vibrations are used to surgically cut bone tissue with precision and accuracy. The frequency of the dental device may be adjusted to allow for cutting hard tissues without damaging soft tissues. For tooth extraction, wisdom teeth removal, sinus surgery and more, patients will experience less post-operative pain, less inflammation, and better results.
IMPLANT STUDIO
3Shape Implant Studio allows for accuracy, predictability, and greater patient experience when it comes to digital implant planning. In one session, we will plan and deliver a solution that you can see before surgery. Without a doubt, this will deliver a better outcome for patients receiving dental implant procedures.
Nitrous Oxide
For patients that experience some degree of dental anxiety or apprehension, Nitrous Oxide is inhaled through a small mask that fits over the patient's nose. Patients feel calm and comfortable, and are able to hear and respond during dental procedures. The effects of nitrous oxide wear off quickly, shortly after the mask is removed.
STA-WAND (The Wand STA Painless Injection Technology)
As the first of its kind, The Wand STA is a computer-controlled local anesthesia system. Dentistry is delivered painlessly, with comfort and greater effectiveness. Patient satisfaction and loyalty increase, as The Wand allows for single tooth anesthesia, with no numbness afterward.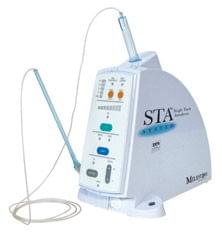 NOMAD Pro 2 (Digital X-Ray Device)
As a non-conventional digital x-ray device, the NOMAD Pro 2 makes dentistry for all ages more efficient with easily adjustable settings, tailored for different types of images. Its handheld, portable design is more durable, more reliable, and has better battery performance. There's no longer a need for multiple x-ray units, because NOMAD Pro 2 moves from room to room.
Isolite
With dual vacuum controls, dental professionals use the Isolite dental isolation device to focus on specific areas of the mouth to suction, while keeping patients comfortable (no more gagging). As the first of its kind, the Isolite incorporates LED lighting, allowing for greater precision and safety (cure-safe mode) when it comes to light-sensitive restoration materials.
DIAGNOdent
At a wavelength of 655nm, the DIAGNOdent early cavity detection device is a cutting-edge tool that is painless and non-invasive. Using no radiation, the DIAGNOdent laser pen detects the tiniest lesions on teeth early. Thus, as a preventative method, it allows for immediate treatment of tooth decay, helping preserve natural tooth structure.