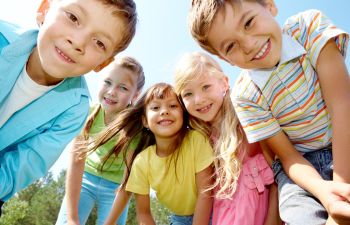 Yes, it is that time of year when many students need to have forms filled out for school indicating they have had their annual physical and dental checkups. Even though these requirements may seem inconvenient, they are an important way of monitoring your child's physical and oral health. As quiet as it is kept, oral health also has a lot to do with general health and well-being.
Healthy Smiles for a Better School Experience
Your child's oral health can mean a better school experience. A bright, healthy smile can help your child feel more positive and self-confident. Researchers have found that oral aesthetics can significantly impact a child's quality of life. Unfortunately, dental anomalies such as crooked teeth or teeth damaged by decay increase the child's chances of being bullied. When dental treatment corrected these issues, there was an increase in self-esteem, self-confidence, socialization and academic performance. Annual dental checkups can help eliminate issues before they develop.
Preventive Care
Your child may need help with proper and effective oral hygiene to ward off cavities. Brushing and flossing should be done correctly to prevent plaque buildup and dental decay. When permanent molars first erupt, they have deep fissures and grooves, which can be a breeding ground for the bacteria that cause cavities. Talk to your dentist about dental sealants to protect the teeth.
Dental sealants flow into the grooves and fissures, forming a layer of protection to keep the bacteria from attacking the tooth enamel. They can add protection for a long as nine years, but they should be checked at the annual checkup to make sure they are still in place. If the sealant comes off, the tooth becomes susceptible to decay.
Orthodontic Care
Regular dental checkups also allow your dentist to monitor the development of your child's bite. Some misalignments of teeth can be detected in the early stages. With early detection, your dentist may be able to make some adjustments that could minimize orthodontic care later as the child grows older.
Braces may be required to straighten out crooked or misaligned teeth. Severe cases may need to be corrected with traditional metal braces; however, clear aligners may be used in mild to moderate situations. Your child's dentist will make a recommendation after a thorough examination.
Dental aesthetics can play an important role in your child's school experience. At Ora Dentistry, beautiful, healthy smiles are our top priority. Call us today to schedule your child's back to school appointments.
Posted on behalf of Ora Dentistry
2733 Elk Grove Blvd, Suite 180
Elk Grove, CA 95758
Phone: (916) 975-1000
Email: [email protected]
Monday - Thursday 7:00am - 5:00pm
Friday 7:00am - 4:00pm