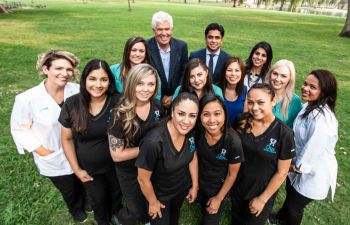 At Ora Dentistry, we proudly serve patients of all ages with excellent dental care services. We are set up to serve the youngest member of your family all the way to the oldest members. There are many benefits to this type of dentistry as opposed to dental offices that only cater to specific ages.
When your entire family visits Ora Dentistry, Dr. Dalla will be able to discuss each of your family member's needs and see habits and common health issues each member may be suffering from. This helps your entire family to be known and cared for with optimal dental care.
Dalla offers convenient scheduling for your whole family. With family block appointment scheduling, your entire family can be treated at the same time. You can all be present to encourage one another and lend a hand when another member is being seen.
When children are present at parents' appointments, they can watch as their parents model proper dental care and behaviors during their appointment. It's good for children to see that dental care is important for every member of the family.
Ora Dentistry has worked hard to create an environment that is welcoming to all ages. We have amenities for your little members such as Netflix and a playroom, to a beverage bar and computers for older patients.
When every member of your family visits the same dentist it can be one more way to connect your family and reinforce that you all are on the same team, cheering for one another.
As schedules and other things can tend to pull your family in all different directions, allow your dental appointments to be one thing that drives you together as a family unit. Book your child's pediatric dentistry appointment, and all of your family's dental appointments at Ora Dentistry today!
Posted on behalf of Ora Dentistry
2733 Elk Grove Blvd, Suite 180
Elk Grove, CA 95758
Phone: (916) 975-1000
Email: [email protected]
Monday - Thursday 7:00am - 5:00pm
Friday 7:00am - 4:00pm