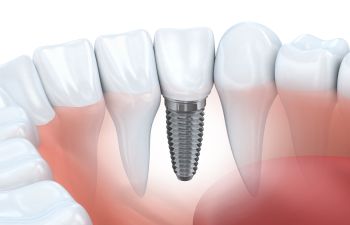 Did you know that dental implants have been traced back to the Mayans in 600 AD? Dental implants were in the form of shells replacing the missing tooth. Dental implants started to become more common in the 1950s with the discovery of titanium fusing to the bone. Today's dental implants have come a long way and come in different shapes and sizes to give a more natural look and feel.
What is a dental implant?

A dental implant replaces the missing root with a metal post that will be inserted into your jawbone to which an artificial tooth (crown) is placed on an attachment to the dental implant (abutment). This artificial tooth is made to look like your natural tooth.

Why me?

Missing a tooth is more common than you would think. Tooth loss could be caused by tooth decay, periodontal disease, injury to the mouth or even an adult tooth not forming. Whatever the reason for your missing tooth, bridges and crowns are no longer the only option to replace the tooth. Dental implants are the more natural-looking way to get your smile back. With the advancement in dentistry, dental implant surgery has become one of the safest dental procedures. According to the American Academy of Implant Dentistry, an estimated 3 million people in the United States has a dental implant.

What to expect with a dental implant?

To begin the process of getting a dental implant, you will need to get x-rays to determine your bone and gum health. An impression of your mouth or extraction of the existing tooth may need to be done. The next step would be the placement of the dental implant into your jawbone. The length of this procedure will vary with each individual but could average 1 to 2 hours. The amount of time the jawbone heals will depend on how long the dental implant takes to fuse to the jawbone. Once the dental implant is stable, an abutment is attached to the dental implant. The dentist then attaches the new permanent tooth (crown) to the abutment.
Overall discomfort level during the dental implant process depends on each individual's tolerance but is said to be minimal. Soft foods will be your friend during the recovery process!
Ora Dentistry in Elk Grove uses the latest technology to give their patients the best natural-looking smile. Ready for your winning smile to be restored, call Ora Dentistry today to schedule your dental implant consultation.

How do I care for my dental implant?

Coming into Ora Dentistry in Elk Grove for regular check-ups/cleanings and maintaining good oral hygiene is key for your dental implant success, as well as, the overall health of your mouth!
Posted on behalf of Ora Dentistry
2733 Elk Grove Blvd, Suite 180
Elk Grove, CA 95758
Phone: (916) 975-1000
Email: [email protected]
Monday - Thursday 7:00am - 5:00pm
Friday 7:00am - 4:00pm