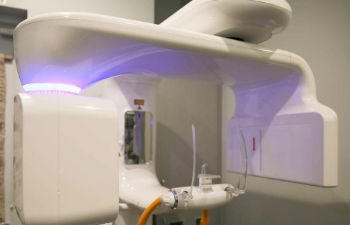 TRIO 3 Shape Digital Scanner MachineLike other healthcare professions, the face of dentistry is changing due to innovations in technologies. While these advancements streamline dental examinations and treatment, they also make visits more enjoyable and comfortable for patients. This is great news, as many people continue to avoid the dentist due to dental anxiety or an undesirable experience in the past. Consider the following discussion of the some of the latest in dental technologies.
CBCT Imaging
Dentistry has vastly improved due to the use of Cone-Bean Computed Tomography Systems, also referred to as CBCT imaging. This type of sophisticated x-ray is particularly useful for implant dentistry that requires the surgical placement of titanium posts in the jawbone. The images created are 3D, and allow dentists to assess the jaw, teeth and tissues with clarity.
TRIOS 3Shape Digital Scanner
As a three-in-one solution for generating high quality impressions, the TRIOS (3Shape Digital Scanner) is a superior alternative that's comfortable and reliable. What's more, the 3Shade TRIOS demonstrates perfect shade matching and precise treatment planning.
Intraoral Camera – SOPROCARE
The SOPROCARE Intraoral Camera is a revolutionary diagnostic tool, as it provides early detection of cavities, plaque, tartar and gingival inflammation. With a greater understanding of a patient's teeth and gums, SOPROCARE helps dentists plan for more effective treatment.
From the smart toothbrush to digital dentures, software applications and intraoral devices, the future of dental care is looking better than ever with new-age dental technologies.
Stress-Free Dentistry in Elk Grove
At Ora Dentistry in Elk Grove, we incorporate the latest dental technologies to better serve our patients. These include CBCT imaging, 3Shape digital scanners and implant studio software, intraoral cameras, advanced x-ray scans, electric devices, scaling and painless injection systems to provide a higher level of dental care.
Perhaps most importantly, we provide dental care with a friendly and compassionate approach, because we value our relationship with you. To experience stress-free dentistry in Elk Grove, call Ora Dentistry today!
Posted on behalf of Ora Dentistry
2733 Elk Grove Blvd, Suite 180
Elk Grove, CA 95758
Phone: (916) 975-1000
Email: [email protected]
Monday - Thursday 7:00am - 5:00pm
Friday 7:00am - 4:00pm