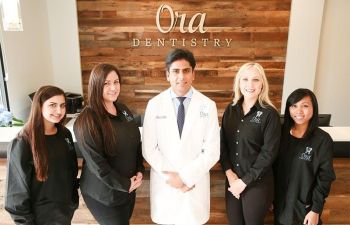 Finding a dentist in Elk Grove isn't all that challenging – but finding a dentist you can trust, a dentist with a sterling silver reputation in the community and the dental industry, and a dentist you know cares about you far beyond the traditional dental professional/client relationship is anything but.
Here in Elk Grove, Dr. Devan Dalla and his team of dental professionals fit that bill perfectly.
Dr. Dalla is one of the most accomplished dentists in the community. He is a graduate of New York University College of Dentistry and a professional that has been practicing since 2008. Dr. Dalla has received honors in implant technology while studying, as well as numerous awards throughout his schooling for providing significant and comprehensive oral care.
Dr. Dalla laid the foundation for his success before moving to the United States. He earned his bachelor's degree in dental surgery from one of the most prestigious institutions in India – all while graduating at the top of his class.
Driven by a passion and desire to serve, to help and to heal whenever and wherever he has an opportunity to, Dr. Dalla has created his own nonprofit organization providing free dental solutions to children and those that otherwise can't afford proper dental care. He is also currently serving in the United States Army Reserve, where he has attained the rank of Captain.
It's almost impossible to imagine being in better hands than Dr. Dalla's. The rest of the team, led by Dr. Kaiser and Dr. Le, help Ora Dentistry to be regarded as the best dental office in Elk Grove and the surrounding community.
Dental Care You Can Trust
The moment you step inside the Ora Dentistry offices here in Elk Grove, California, you know that you aren't in a traditional, run-of-the-mill dentist's office.
Luxurious appointments fill the welcome area, with plenty of comfortable seating, a coffee maker and complimentary beverages, as well as a whole host of magazines and periodicals to help you spend the downtime before your visit.
Our staff is always friendly and inviting. They are more than happy to help you from start to finish throughout your visit to the Ora Dentistry offices, doing everything they can to make your appointment as enjoyable as possible.
Ora Dentistry offers high-tech solutions throughout the office, from the moment that you arrive and book your first appointment right on through the actual dental services you receive. Significant investments are routinely made in dental instruments, technology and training, all with an eye towards making sure that every patient receives the very highest possible level of dental care available – without exception.
Whether you come to the Ora Dentistry offices for preventative care, a routine exam and cleaning, restorative dentistry, cosmetic dentistry or emergency services, you'll be well taken care of by dental professionals you know you can trust.
There is a reason why so many people consider Dr. Dalla to be the best dentist in Elk Grove. He is recommended and referred more frequently than almost any other Elk Grove dentist!
Preventative Solutions
Preventative dental services provided at Ora Dentistry in Elk Grove include traditional dental examinations as well as more thorough cleanings and in-depth examinations that give you a complete picture of your current dental health.
These are the kinds of visits to the office voted the Elk Grove best dentist that are going to help you keep your smile looking brilliant, bright white and healthy – making sure you not only look your very best but feel your best, too!
Restorative Solutions
Even with incredibly diligent dental health habits and regular preventative examinations, it's possible to need restorative dentistry from time to time. At Ora Dentistry, you'll be well taken care of.
Dr. Dalla and the team at his Elk Grove dentist office are going to work with you, step-by-step, to diagnose what your dental hygiene and health needs are, as well as the best course of action for restoring your smile to its best condition as soon as possible.
Restoration services that can be taken advantage of at the best dental office in Elk Grove include cavity filling solutions, dental extraction, dental implants, implant secured dentures, and a whole host of other high-tech solutions that will guarantee you look and feel your very best sooner than you ever thought possible.
The dental professionals, here in what many consider to be Elk Grove's best dentist, can refresh smiles that some may have been keeping hidden for a variety of reasons – bringing a lot of joy and happiness back into people's lives!
Guaranteed Painless Dental Services
Plenty of young children and over 60% of adults report feeling anxious when they have an upcoming dental visit.
Dental anxiety won't be a problem when you are visiting Ora Dentistry, the dentist in Elk Grove, thanks to the sedation services that are offered here.
Traditional "laughing gas" can be used as a mild sedative for patients that want to take the edge off. Oral conscious sedation is available for those that are dealing with slightly more anxiety and nerves. IV sedation services are available to those that are particularly anxious about these kinds of dental procedures and is also available to anyone expecting to undergo significant or extensive dental procedures at our office.
At the end of the day, your comfort, your confidence and your safety are always our number one priority. If you'd like to speak with any of our dental professionals about sedation options for anxiety or want to learn more about how we may be able to help make your visit more pleasant, just let us know!
Contact Us Today!
If you'd like to learn more about the services available at what many consider to be the best dental office in Elk Grove, we hope you'll reach out to us at your earliest opportunity. Our office has received exceptional online reviews and testimonials, and we would be happy to furnish references upon request.
Our office hours are 7:30 AM to 6:00 PM Monday through Friday, and we can be reached at 916-975-1000. We can also make Saturday appointments available on a case-by-case basis. If you're calling to learn more about how we might be able to help you with your Elk Grove dentist needs, it's best to contact us during our weekday office hours.
Please feel free to contact us at 916-975-1000. You can also email us at [email protected], and we'll do our best to get back to you as soon as we possibly can.
We look forward to speaking with you soon!
Posted on behalf of Ora Dentistry
2733 Elk Grove Blvd, Suite 180
Elk Grove, CA 95758
Phone: (916) 975-1000
Email: [email protected]
Monday - Thursday 7:00am - 5:00pm
Friday 7:00am - 4:00pm