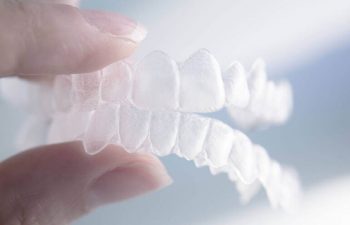 While cosmetic dentistry now represents the largest nonsurgical beauty industry after makeup, as noted by New York Magazine, it's no surprise that having a straight smile has become an obsession. In fact, some claim that a straight smile is preferred over clear skin! In any case, the popularity of clear orthodontics has grown exponentially, as more teens and adults are opting for treatment. Fortunately, there are discrete ways to straighten one's smile.
From simple fixes to complex cases, Invisalign clear aligners are a hassle-free way to straighten teeth. For one thing, the aligners are removable, meaning that individuals do not have to worry about food being stuck between pesky metal brackets and wires. Second, they are clear and virtually undetectable by friends and colleagues. Having transformed 5 million smiles worldwide, the revolutionary aligner system is superior when it comes to appearance, comfort, safety and predictability. When compared to traditional orthodontics, Invisalign straightens teeth faster and more efficiently.
Also providing invisible teeth straightening is ClearCorrect, a versatile orthodontic solution with three treatment protocols. Patients are given a specific number of customized aligners, based on the degree of misalignment. For example, a patient might receive 6 aligners, 12 aligners or an unlimited number of aligners in order to achieve optimal teeth straightening. Like Invisalign, the removable aligners offer freedom when it comes to eating, as well as maintaining oral health. With periodic checkups to monitor movement, ClearCorrect aligners are used to help patients with crowded teeth and gaps between teeth, as well as those with an overbite, underbite and rotated teeth.
High Value Alternative to Braces
Invisalign and ClearCorrect provide a high value alternative to braces, with unparalleled comfort and convenience for patients of all ages. Ora Dentistry is proud to offer both clear aligner systems as options for patients seeking a straighter smile, without the fuss of wires, brackets or bands.
If you are looking for a smile straightening solution that works with your lifestyle, call Ora Dentistry today to learn more about Invisalign or ClearCorrect.
Posted on behalf of Ora Dentistry
2733 Elk Grove Blvd, Suite 180
Elk Grove, CA 95758
Phone: (916) 975-1000
Email: [email protected]
Monday - Thursday 7:00am - 5:00pm
Friday 7:00am - 4:00pm