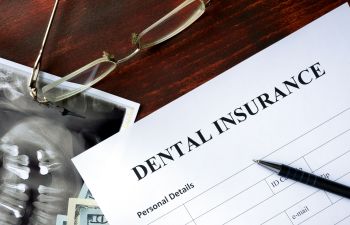 No one likes to waste money. We all work hard to bring home a paycheck to support ourselves and our families, and throwing money away is just an insult to our hard work. As 2020 comes to an end, it is time to look at how your dental insurance has been used this year. One of the most overlooked financial areas where money is wasted each year is in dental insurance coverage.
If you have dental insurance, you pay a monthly premium that goes towards your yearly coverage. Most dental insurance plans are in effect from January 1 through December 31. The typical dental plan provides $1,000 to $1,500 worth of coverage per person within a calendar year. **It is imperative that you check your personal policy to understand your coverage.** The benefits provided with dental insurance typically cover two dental cleanings and examinations and 50% – 80% coverage on dental work. While having dental insurance can be very beneficial to those who regularly visit the dentist or who need extensive dental work, there are millions of Americans who lose money every year. Dental insurance does not carry over after a calendar year. So any coverage that you have not used, even though you paid for it, is lost.
Now that November is halfway over, the time is closing in for you to get the most out of your dental insurance policy. If you want to maximize your coverage, you need to use it. If you have not had your second cleaning, now is the time to schedule it. Dental cleanings and exams cost upwards of $400 out of pocket, so using your dental insurance coverage is worth the monthly premium – but only if you actually use it! Also, if you know that you need to have dental work done (fillings, crowns, bridges, etc.), why not let all the money that you have poured into your policy this year work to your benefit?
As 2020 comes to a close, dental practices are busier than ever. Many people want to maximize their dental coverage and are trying to schedule appointments. At Ora Dentistry, we want to remind you that you need to make an appointment soon. We don't want you to miss out on your dental coverage. The sooner you call, the faster we can help get your appointment scheduled.
Posted on behalf of Ora Dentistry
2733 Elk Grove Blvd, Suite 180
Elk Grove, CA 95758
Phone: (916) 975-1000
Email: [email protected]
Monday - Thursday 7:00am - 5:00pm
Friday 7:00am - 4:00pm