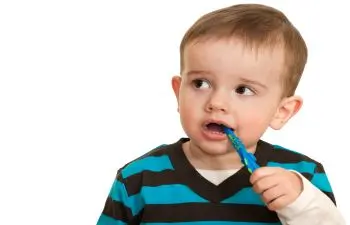 So many things about being a parent require intentionality. From being prepared with extra diapers, wipes, and clothes in the diaper bag to making well visit checks with the pediatrician, parents have a lot to juggle. While it is easy to celebrate milestones that your baby reaches during her first year of life, one area that is often overlooked is a child's oral health. It may seem a bit "over the top," but did you know that dental experts advise that children visit the dentist by their first birthdays? Before you call us crazy, let us explain why early dental visits are so important.
When children have an early exposure to the dentist's office, they most often will grow up with a healthy view of oral health care. Children whose parents wait until they are 6 – 8 years of age to bring them to the dentist are much more likely to experience dental phobia. When children have anxiety about dental visits, it becomes much more difficult to provide oral health care because children can't relax, or they will avoid the dentist as they grow older.
There are two main benefits to bringing children into the dentist around their first birthday:
Young children will grow up with the understanding that visiting the dentist is just a way of life. They will view dental visits, sitting in the dentist's chair, having fingers and cleaning tools inside their mouths, and the experiences at the dentist as normal. This is the main goal!
Early dental visits allow your dentist to gain a baseline for your children's oral health. When your dentist is familiar with the ins and outs of your children's smiles, she or he will notice right away at a dental visit if anything worrisome is evident. Your dentist will be familiar with your children's teeth, gums, and mouths and will be able to evaluate anything against previous visits.
At Ora Dentistry, we enjoy working with children and their parents to achieve healthy, beautiful smiles that can last a lifetime. We want all children that come to our practice to grow up with an appreciation for the importance of their oral health and with no fear of getting the dental care they need.
Posted on behalf of Ora Dentistry
2733 Elk Grove Blvd, Suite 180
Elk Grove, CA 95758
Phone: (916) 975-1000
Email: [email protected]
Monday - Thursday 7:00am - 5:00pm
Friday 7:00am - 4:00pm