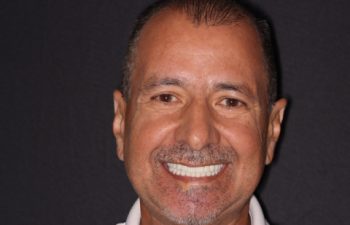 Multiple smile improvement treatments may seem daunting. Fortunately, Ora Dentistry's porcelain veneers can transform your smile in one cosmetic procedure.
Porcelain veneers are the most adaptable and comprehensive of all cosmetic dental procedures. If you have several cosmetic issues with your teeth, veneers are likely to solve all of them.
How Porcelain Veneers Work
Porcelain veneers cover cracks, gaps and years of accumulated stains with a beautiful new surface.
They are thin porcelain pieces that cover one or more teeth. These covers are tailored to look like natural teeth but are straighter and brighter for a flawless smile. Our cosmetic dentists can also build veneers to change tooth size or shape, depending on personal preferences.
Porcelain veneers are attractive, stain-resistant and last ten years or more.
Dental Issues Porcelain Veneers Can Fix
This smile makeover, whether major or minor, will improve your smile dramatically and change your life. Listed below are a few of the many issues correctable with porcelain veneers.
Teeth Color
Veneers are made of translucent porcelain that improves tooth color and durability.
Crooked Teeth
Porcelain veneers look better than orthodontics and are not as challenging to deal with. They provide a natural-looking smile without all the metal parts and painstaking process. Placed over crooked teeth, they give the impression of perfectly aligned teeth.
Gummy Smile
Excess gum tissue or tiny tooth size contributes to a gummy smile. Thus, smiling reveals more gums than teeth. While not a significant issue, a gummy smile can prevent you from flashing your best grin. Porcelain veneers can be made to enlarge your teeth, so less of your gums show.
Tooth Imperfections
Porcelain veneers are an excellent option for hiding minor imperfections like chips, fractures or even small cavities. Dentists also use them as a means of masking extreme tooth discoloration. However, you should know that they can only hide decayed teeth and are not a treatment option.
Getting Veneers to Fix Dental Flaws
Your smile can be transformed in two to three cosmetic dental veneer sessions. During the first visit, a small amount of natural tooth enamel is taken off the affected teeth and impressions are made for our dental lab. After that, we will maintain your smile with temporary veneers until your permanent ones arrive. Then, our team will bond the permanent veneers to your teeth the next time you come in to finish your beautiful smile.
Contact Ora Dentistry to set up a consultation about porcelain veneers and find out more about this fantastic procedure.
Posted on behalf of Ora Dentistry
2733 Elk Grove Blvd, Suite 180
Elk Grove, CA 95758
Phone: (916) 975-1000
Email: [email protected]
Monday - Thursday 7:00am - 5:00pm
Friday 7:00am - 4:00pm