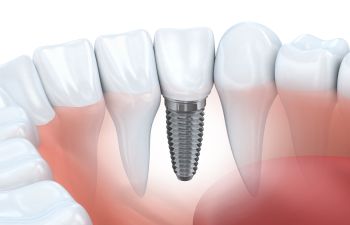 If you have recently lost a tooth or had one extracted, how long can you really wait until you get a dental implant? When it comes to successful dental implant placement after a missing tooth, timing is actually very important. While you may think you can take several months or a year to save up enough funds, it may be too late to qualify for implant dentistry by then.
Dental implants require healthy bone density and sufficient bone height from your jaw in order for the titanium post to be fully surrounded by bone and secure enough to withstand everyday function of your prosthetic tooth. While you may have adequate amounts of bone when you lose a tooth, over time the bone will atrophy without the proper stimulation of a tooth root.
There is no hard and fast rule to how long you can wait before you start losing too much bone for successful dental implants, as it would depend on factors like age, health, and position of the missing tooth in the mouth. However, it is best to be as conservative as possible in terms of timing. Most dentists do no recommend waiting more than 4 to 6 months. You should ask your dentist about your specific case, and consider getting routine x-rays during your wait time to ensure the bone is not already starting to shrink.
There are instances in which you will need to wait a certain period of time before getting a dental implant. For instance, if you had a severely infected tooth that affected surrounding bone, your dentist may want to put you on antibiotics to ensure the infection has cleared before placing the implant.
If you are in a situation where you want dental implants but can't afford them in the timeframe you need to get them, consider a financing option such as CareCredit. Dr. Devan Dalla understands the challenge of affording dental implants, but he also realizes the importance of timing when it comes to this gold standard tooth replacement solution. At Ora Dentistry, we don't want patients to have to pay for bone grafting or not be eligible for dental implants entirely because of their budget.
Posted on behalf of Ora Dentistry
2733 Elk Grove Blvd, Suite 180
Elk Grove, CA 95758
Phone: (916) 975-1000
Email: [email protected]
Monday - Thursday 7:00am - 5:00pm
Friday 7:00am - 4:00pm