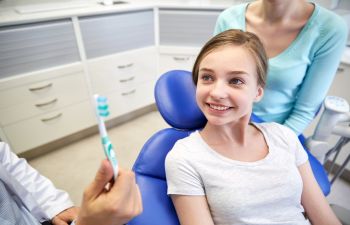 How are you doing with getting your kiddos prepared for school? Have you checked and double-checked the school shopping list for your kids' school? If you have multiple kiddos, it can be challenging to keep everything organized. A little hint for you is to use a permanent marker and place each childs' initials on every item. This will help prevent confusion and the potential for tears shed over whose is whose.
While you help your kiddos get mentally prepared for school with all of their supplies, Ora Dentistry will help you get them dentally prepared. Dr. Dalla offers services to promote dental health and confidence for your school-aged child.
During our regular cleanings and checkups (recommended twice a year) we will take time to properly clean your child's teeth. We will also check for any tooth decay, cavities, infections or any other issues that might be compromising the health of your child's teeth.
To boost your student's confidence, we offer Teen Invisalign. If your child is a good candidate for this option, they can employ the use of our clear custom aligners to correct misaligned teeth. Your teen will be able to eat the foods they like and they will not have to be embarrassed by the appearance of metal braces.
We also want to encourage you to have your child have a healthy diet at home. The American Dental Association has many good tips for you and your child's dental health. You can read about it here.
At Ora Dentistry, we'd like to wish all of our patients, both young and old, a happy and healthy start to the beginning of the school year!
Posted on behalf of Ora Dentistry
2733 Elk Grove Blvd, Suite 180
Elk Grove, CA 95758
Phone: (916) 975-1000
Email: [email protected]
Monday - Thursday 7:00am - 5:00pm
Friday 7:00am - 4:00pm