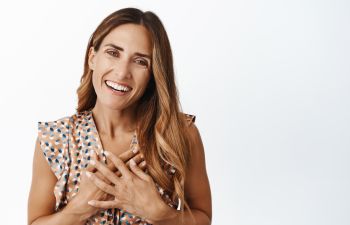 Are you ready to seize the momentum that thrums with the change of every calendar to experience a newer, more confident version of yourself? If so, you're certainly not alone. In fact, among respondents to a survey in the UK collecting data about New Year's resolutions in 2022, "personal improvement and happiness" was the second-most-common choice. Everyone wants to go into a new year feeling their best and showing off their confidence. This can be a struggle for so many, but can be particularly difficult for those with dental woes.
A lack of confidence in your smile can cause you to hide it from the world, which can have far-reaching implications for your life. This year, instead of setting the same half-hearted goals to go to the gym, why not take a new approach?
Improving the Look of Teeth for a Massive Confidence Boost
When dental issues reach the point where you no longer feel confident smiling, the ripple effects can be surprising. You can be perceived as colder, less friendly and less welcoming. The most basic tool for non-verbal expression of happiness, approval and appreciation is taken from your repertoire. Because the human body releases three feel-good hormones during the process of smiling, you're also missing out on the endorphins, serotonin and dopamine that signal happiness to your brain. In short, smiling releases hormones that let your brain know you are happy; without them, it's not always so easy to tell.
Stifling your smile truly does stifle your joy, on a chemical level. Restoring that joy can be attainable, especially when confidence in the look of your smile is restored.
Dental Care is the Key to Oral Health and Improving the Look of Teeth
Your confidence matters. Your smile matters to your mental health and your gum health matters to the rest of your body. While you're trying to deal with the psychological effects of suppressing your smile, oral bacteria and the microorganisms responsible for tooth decay may be doing a number on your heart health.
The impact of great dental care on your quality of life genuinely cannot be overstated. The compassionate, gentle experts at Ora Dentistry understand the intersectionality of oral health and whole-body wellness, and work hard to help you reach all your health goals. Ready to step into the new year with a new approach to life? Call or contact Ora Dentistry today to take the first step on your journey.
Posted on behalf of Ora Dentistry
2733 Elk Grove Blvd, Suite 180
Elk Grove, CA 95758
Phone: (916) 975-1000
Email: [email protected]
Monday - Thursday 7:00am - 5:00pm
Friday 7:00am - 4:00pm