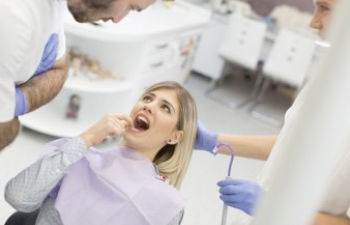 Perhaps you chipped or broke a tooth by falling into concrete, grinding your teeth at night, chewing ice or biting hard candy. Regardless of how the damage occurred, a cracked or broken tooth can be a frightening and devastating experience. However, you need not fret. Repairs can be made to the tooth to restore your beautiful smile.
How Do You Know if You Have a Cracked or Broken Tooth?
Molars are prone to cracking because they are located at the back and sides of your mouth and take the brunt of the force during chewing or teeth grinding.
There is a chance you will not pinpoint the exact second the damage occurs, because it is not always a painful experience. Other times, you may have a cracked or broken tooth if you experience pain or sensitivity when drinking or eating food — hot or cold. Please consult the expert dental team at Ora Dentistry about this as soon as possible.
The Importance of Biannual Checkups and Cleanings for Finding Cracks
There are moments when you may not notice that you have a cracked tooth. However, a regular checkup with your dentist could reveal the problem. As you can see, the importance of regular checkups cannot be overstated.
If the fracture extends through the enamel, it needs to be treated so it does not worsen or become infected. The dental treatment will depend on the depth of the crack. Your dentist at Ora Dentistry may suggest covering your tooth with a crown, performing a root canal or extracting the tooth.
If there is an infection, we may recommend a root canal. Unfortunately, extraction will be the only option if a tooth is too far gone to be saved. Therefore, visiting a dentist if you so much as suspect a crack is wise. By starting treatment sooner rather than later, you can avoid more extensive procedures.
Treatment Options for Cracked and Broken Teeth
Damaged tooth treatments include:
Crowns
Veneers
Dental implants
Root Canals
Bonding
Fillings
Sealants
A damaged tooth is a dental emergency. Contact our dental team as soon as you can to schedule an appointment. We will examine the extent of the damage and choose the least invasive treatment possible to restore your tooth.
Posted on behalf of Ora Dentistry
2733 Elk Grove Blvd, Suite 180
Elk Grove, CA 95758
Phone: (916) 975-1000
Email: [email protected]
Monday - Thursday 7:00am - 5:00pm
Friday 7:00am - 4:00pm