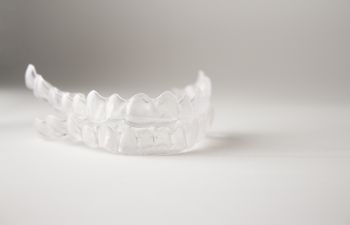 With the power to provide invisible teeth straightening, ClearCorrect is a revolutionary system that has become a welcome alternative to traditional metal braces. Similar to Invisalign, ClearCorrect utilizes clear aligner trays that provide gradual teeth correction with each series. With treatment divided into four phases, patients receive a new set of aligners that are worn for a three-week period, as explained by the Consumer Guide To Dentistry. While the time between each treatment phase provides control and flexibility, the removable aligners offer individuals freedom to eat and drink, as well as brush and floss effectively.
Designed to help teens and adults obtain the smile they've always wanted, ClearCorrect is a versatile option with three treatment protocols, depending upon a patient's degree of misalignment. In other words, patients may receive 6 sets of aligners, 12 sets of aligners or an unlimited number of aligners to achieve the result that they want. Even so, the average treatment time ranges from one to two years, and includes periodic checkups throughout to ensure that teeth are moving correctly.
ClearCorrect: Unparalleled Clarity
While ClearCorrect and Invisalign remain popular solutions for invisible teeth straightening, the ClearCorrect system provides unparalleled clarity and resists clouding from prolonged wear. Thus, it's no surprise that ClearCorrect is the system that many patients count on to realign and straighten their smile.
Only a dentist or certified provider can determine if an individual can benefit from the invisible teeth straightening system found in ClearCorrect. To date, ClearCorrect has helped many achieve superior teeth straightening in regards to the following conditions:
Crowded Teeth
Spacing Between Teeth
Overbite
Underbite
Rotated Teeth
Getting Started with ClearCorrect
Perhaps you'd like to take the first step towards treatment with ClearCorrect. At Ora Dentistry in Elk Grove, Dr. Dalla and the team welcome you to call us today. Combining patient comfort with a modern approach to dentistry, our staff will put you at ease as we evaluate your oral health, answer your questions and provide you with a discrete orthodontic solution to suit your needs and goals. Call today!
Posted on behalf of Ora Dentistry
2733 Elk Grove Blvd, Suite 180
Elk Grove, CA 95758
Phone: (916) 975-1000
Email: [email protected]
Monday - Thursday 7:00am - 5:00pm
Friday 7:00am - 4:00pm