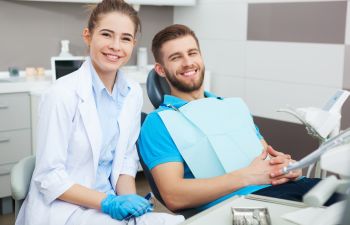 Springtime is known as the season when many individuals take on big cleaning projects. They want to have a fresh start, and this is the perfect season to air out the house, spruce it up and get it in shape before summer activities begin. Spring is also a good time to consider having your teeth professionally cleaned, if you have not had it done lately. While you may think you are doing an adequate job keeping your teeth and gums clean, you may find that a professional cleaning can make a big difference.
Why Professional Teeth Cleaning is Important
Regardless of the time of year you choose to have your teeth cleaned, it should be done at least once and maybe even twice a year or more. Brusing and flossing your teeth at home are definitely critical for the best oral health, and a professional cleaning supports your efforts with a deeper clean.
Many people deep clean their homes in the spring, making extra effort to get every little nook and cranny spotless. This is what professional cleaning does for your teeth and gums as well. Plaque builds up in hard-to-reach areas of your teeth. After a while, the plaque hardens into tartar, or calculus, as it is also known. This pushes the gums away from the tooth and small pockets are formed. These pockets collect more bad bacteria and food debris and soon, gum disease develops.
No matter how well you brush and floss your teeth, removing that hard substance, especially below the gum line, is all but impossible unless you enlist the services of a trained professional. Removing the tartar is accomplished with special instruments. Once the tartar has been removed, the affected teeth may need to have part of the root smoothed or planed so the gum can reattach.
Stop Gum Disease in Its Tracks
There are many reasons an individual may develop gum disease. Medical conditions, hormones, certain prescription medications and other factors can cause the disease, but the main reason is poor oral hygiene. Even adequate oral hygiene practices will not guarantee that you will not develop gum disease. You can decrease the likelihood of gingivitis with regular professional teeth cleaning.
Ora Dentistry is committed to providing you with the best oral care to help you maintain your beautiful smile. Give us a call today and schedule an appointment for your professional teeth cleaning.
Posted on behalf of Ora Dentistry
2733 Elk Grove Blvd, Suite 180
Elk Grove, CA 95758
Phone: (916) 975-1000
Email: [email protected]
Monday - Thursday 7:00am - 5:00pm
Friday 7:00am - 4:00pm