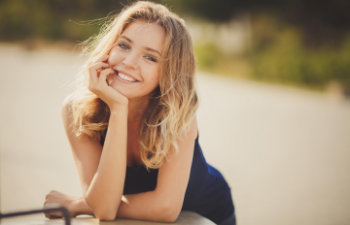 If you have discolored, missing, or crooked teeth, you may not enjoy showing your smile. When it comes time to take pictures with family or friends, do you press your lips closed over your teeth? Summer is full of events you want to remember and share through pictures. Stop hiding your smile – it is time to explore cosmetic dentistry to change the appearance of your smile.
You may be surprised how quickly you can improve your smile. Many cosmetic dental procedures can be completed in one visit – even if you have an event in less than a week, some treatments can help your smile look amazing. The following are cosmetic dentistry options we offer at Ora Dentistry to give you that picture-perfect smile.
Whitening for a Bright, Youthful Smile
Teeth whitening is one of the fastest ways to improve your smile. Aging, stains, and other factors can change the color of your teeth. Dull, yellowish, or gray teeth look unhealthy, but professional teeth whitening can quickly give you a brighter smile. We offer ZOOM! in-office whitening that can be performed in about an hour, bleaching your teeth several shades in one session.
Cosmetic Bonding and White Fillings
Do you have oddly shaped teeth, small gaps, or noticeable silver fillings? Composite resin is a white dental material that can be used to reshape and repair teeth. This substance is soft and pliable – it can be used to add width to teeth to close a gap or for filling in a cavity. Our dental team will color-match it to your teeth so that it blends exactly – it is almost impossible to see where the real tooth ends and the filling or bonding begins. This is an alternative to veneers for hiding dental flaws and it can be completed in one visit.
Porcelain Veneers Smile Makeovers
Porcelain veneers are the ultimate option for giving your smile a completely new look. These customized porcelain shells give a new exterior appearance to your smile, creating an even, white smile without lengthy dental procedures. While dental veneer smile makeovers can take longer than one visit, your new smile will last for many years with proper care.
Replacing Missing Teeth
One of the biggest reasons our patients hide their teeth is due to holes in their smiles. If you have missing front teeth, it can be embarrassing to show your full smile. There are many options for replacing missing teeth, from incredible dental implants that look and function like a natural tooth to dental bridges that fill the missing teeth holes with prosthetic teeth. We offer the latest restoration advancements at our dental center in Elk Grove, CA.
Give your teeth a new look and be ready to smile for the camera this summer. Give our team a call at Ora Dentistry to schedule a cosmetic dental treatment consultation to learn how we can improve your smile.
Posted on behalf of Ora Dentistry
2733 Elk Grove Blvd, Suite 180
Elk Grove, CA 95758
Phone: (916) 975-1000
Email: [email protected]
Monday - Thursday 7:00am - 5:00pm
Friday 7:00am - 4:00pm