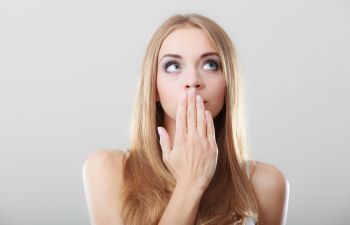 There is something about this holiday season that sparks so many memories. Did you know that many of your memories are linked to your sense of smell? Think about the most common scents of that surround the month of December. The clean, crisp smell of freshly laid snow is refreshing. The smell of pine reminds us of the Christmas trees that light up our homes. The smell of peppermint evokes the desire for the popular flavor of winter.
The reason many of your memories are linked to smells is because your smells first are processed by your olfactory bulb. This is initiated inside your nose and runs along the bottom of your brain. There is a direct connection from the brain to the olfactory bulb.
So why is scent connection important to your dental health? At Ora Dentistry, we want to remind you that your breath can create good or bad holiday memories for you and your loved ones. If you have bad breath, and attempt to make a mistletoe kissing appointment with a loved one, you could build a bad memory.
Bad breath is also known as halitosis. You could have halitosis for a variety of reasons. At Ora Dentistry, we will help you discover the source of your bad breath and offer halitosis treatment to give you and your future kissing loved ones relief and great memories for years to come!
Get mistletoe ready and book your halitosis treatment appointment at Ora Dentistry.
Posted on behalf of Ora Dentistry
2733 Elk Grove Blvd, Suite 180
Elk Grove, CA 95758
Phone: (916) 975-1000
Email: [email protected]
Monday - Thursday 7:00am - 5:00pm
Friday 7:00am - 4:00pm