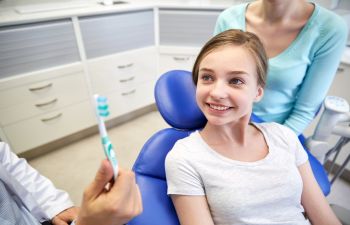 This time of year, when students are preparing to return to school, presents the perfect opportunity for checking to make sure your child's oral health is up to par. Among school-aged children, dental decay is the most common chronic disease, and over 51 million hours of school time are lost each year due to this preventable disease.
The back-to-school checkup allows the dentist to identify and treat tooth and gum disease before they have a chance to disrupt your student's activities. Some school districts make it mandatory for returning or new students to have these important exams. Untreated tooth decay can ultimately affect your child's ability to chew and/or speak. The distraction of pain and discomfort can also affect the child's ability to participate in school activities. In addition to identifying problems, this visit to the dentist can also ensure that your child is practicing proper oral hygiene.
Brush and Floss Correctly
Children, especially young children, do not always practice proper oral hygiene. Brushing and flossing techniques may not be adequate to thoroughly clean away plaque and food particles from all the teeth. This leaves these neglected areas more vulnerable to plaque buildup, gingivitis and tooth decay. A visit to the dentist provides an opportunity for learning about proper brushing and flossing techniques. Your child's teeth will also be thoroughly cleaned by a dental professional.
A professional cleaning removes all plaque and tartar buildup to prevent gum disease and tooth decay. As part of the cleaning process, the gums will be checked for potential problem areas for gingivitis. As children reach and move through puberty, hormone levels change and their gums can become more susceptible to disease. Another part of the cleaning may include fluoride treatment. This important step helps strengthen teeth against decay. For younger patients who are just getting their molars in, your dentist may suggest dental sealants.
Dental Sealants Offer More Protection
The dental sealants used on permanent molars are made from a medical-grade resin. The content is similar to that of the composite material used to fill teeth, but the consistency is runny. This allows the sealants to settle into the deep grooves and fissures of the chewing surface of the molars.
The coating provides protection against the bacteria and buildup of food particles in these areas and thus minimizes the opportunity for dental decay. In fact, dental sealants can reduce the incidence of dental decay by about 80%.
At Ora Dentistry, we are committed to helping you and your family members maintain the highest level of oral health. Contact us today to schedule back-to-school checkups so your kids can begin the school year with healthy, bright smiles.
Posted on behalf of Ora Dentistry
2733 Elk Grove Blvd, Suite 180
Elk Grove, CA 95758
Phone: (916) 975-1000
Email: [email protected]
Monday - Thursday 7:00am - 5:00pm
Friday 7:00am - 4:00pm