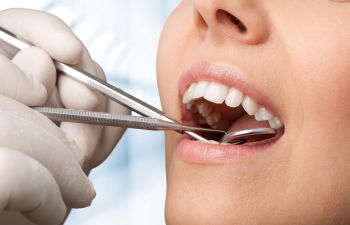 Every trade has its tools designed to make the job easier and more effective.
Construction workers have hammers. Teachers have red pens. Writers have computers.
Dentists have dental tools as well. When you visit a dental office you typically will notice a small tray of dental tools that will be used during your examination. When you visit our office at Ora Dentistry, you'll notice we use these common tools as well.
Dental Mirror – A dental mirror is used by Dr. Dalla and his hygienists to access visibility in difficult areas of your mouth. They can also be used to direct light into dark areas of your mouth. The mirror is round (about the size of a nickel) and attached to an extension that can reach into hard-to-reach areas. The smooth texture of the mirror makes it a pleasant experience for the patient.
Dental Explorer – A dental explorer is used to detect tooth decay at tooth enamel. It can be use to find small decay. It is made of metal and has a small tip at its pointed end that is used to improve tactile sensation. A dental explorer can also be used to pick debris out of between your gums and teeth. Dental explorers come in several shapes and sizes. The most common type of dental explorer is called a shepherd's hook.
Periodontal Probe – This metal tool is used for the diagnosis of gum diseases. It has fine lines on its tip that are used to measure potential areas of disease to measure its depth if there are pockets present.
While we utilize the latest technology to offer high-end care for you, we still use the effective dental tools that have been used for many years. Book your general dentistry appointment with Dr. Dalla at Ora Dentistry today.
Posted on behalf of Ora Dentistry
2733 Elk Grove Blvd, Suite 180
Elk Grove, CA 95758
Phone: (916) 975-1000
Email: [email protected]
Monday - Thursday 7:00am - 5:00pm
Friday 7:00am - 4:00pm