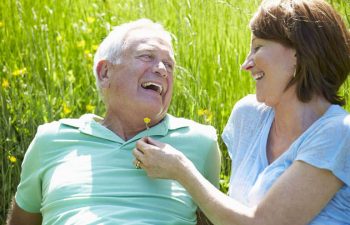 As we age, it is completely normal to see tooth loss. We use our teeth every day, resulting in wear and tear that can eventually lead to tooth loss. Even though this loss is normal, it can have very undesirable results. You may feel embarrassed and avoid smiling, or it could be difficult to eat your favorite foods. If you would like to regain your confidence and your smile, All-on-4 implants may be the right solution for you.
What are All-on-4 Implants?
All-on-4 implants replace the entire upper or lower set of teeth. They are a natural-looking alternative to dentures and are a more permanent solution, as well. Traditional implants involve individual teeth being attached to screws that are surgically implanted into the gumline. All-on-4 implants are different. The dental surgeon will insert four titanium posts into your jawbone to anchor the implants. The implants are then attached as a group to these posts, allowing for a whole set of teeth to be implanted on the same day.
Who is a Good Candidate for All-on-4 Implants?
All-on-4 implants are a good choice if you require the replacement of all of your teeth. In order to place the titanium rods, you will need a strong jawbone to hold the implants in place. You also need to be able to practice good oral hygiene to maintain the implants, which includes daily flossing and brushing, just as you would your natural teeth.
All-on-4 Recovery
After All-on-4 implant surgery, it is crucial to incorporate rest into your recovery period. During the initial procedure, your surgeon will fit you with a temporary denture that will be placed on top of the implants. Avoid any strenuous activity until your dental surgeon clears you. After your implant procedure, expect to be on a soft foods diet, such as smoothies, yogurt, eggs, oatmeal or other foods that do not require heavy chewing. You will be able to resume regular work activities after a few days. It should take around six months for your implants to fully heal and settle into your jawbone. At this time, your surgeon will attach your permanent implants.
Trust Ora Dentistry with Your All-on-4 Implants
If you have lost your teeth and are looking for an alternative to dentures, All-on-4 may be right for you. The team at Ora Dentistry has gained a stellar reputation for patient care and satisfaction while using the newest dental technology available. Call to schedule a consultation today.
Posted on behalf of Ora Dentistry
2733 Elk Grove Blvd, Suite 180
Elk Grove, CA 95758
Phone: (916) 975-1000
Email: [email protected]
Monday - Thursday 7:00am - 5:00pm
Friday 7:00am - 4:00pm