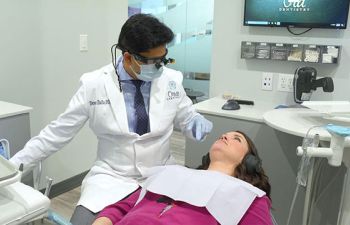 Do you have a tooth that is broken, cracked, decayed or simply unsightly? Your solution may be a custom dental crown, which is a time-tested and long-lasting dental restoration. Dental crowns have been used for decades as an effective and preferred way to repair teeth that would otherwise not survive everyday function. A crown is considered a dental cap that encases all visible sides of a tooth. Best of all, dental crowns look, feel and function like natural teeth. While it is most often used to strengthen a fragile or damaged tooth, it can also be used as a cosmetic solution to make your tooth look more attractive.
Crowns are a Versatile Solution
A dental crown can be used as a temporary or permanent fix. There are countless reasons for getting a crown, including the following:
You have an area of decay that is too large for a dental filling
You need to secure a dental bridge
You need to top a dental implant (your prosthetic tooth!)
You have a severely cracked or broken tooth
You had a root canal, and the affected tooth needs reinforcement
You have a discolored tooth or one with stubborn stains
You have a misshapen or disproportioned tooth in relation to your overall smile
Depending on what your dentist offers, the location of the crown as well as your personal preferences, crowns can be made of porcelain, ceramic, gold, metal alloys, or composite resins. In general, porcelain that is bonded over a metal shell is preferred. As this type of crown is durable, resilient and can be tailor made to match your existing teeth.
To learn more about how we place dental crowns at Ora Dentistry, please give us a call. We love restoring your teeth with the best that modern dentistry has to offer.
Posted on behalf of Ora Dentistry
2733 Elk Grove Blvd, Suite 180
Elk Grove, CA 95758
Phone: (916) 975-1000
Email: [email protected]
Monday - Thursday 7:00am - 5:00pm
Friday 7:00am - 4:00pm