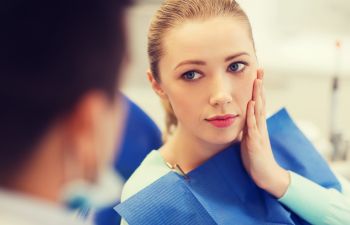 It is easy to put off a visit to the doctor or dentist when things are "going well." You feel fine, you do not notice any concerns, and life is running smoothly. However, there are times when it is imperative for you to seek immediate attention. And, of course, it is always in your best interest to keep regular check-ups with your doctor and dentist to prevent catastrophes to your health.
A dental emergency is classified as an instance where you experience severe dental pain, have broken or lost a permanent tooth, have an infection or abscess in the mouth, or experience bleeding from the mouth. If you have any of these symptoms, you are likely experiencing a dental emergency, and you need to call your dentist immediately.
A broken tooth is considered a dental emergency for two reasons: 1) it will not heal on its own, and 2) bacteria can enter a break in the tooth and cause infection quickly.
All of the teeth inside the mouth work together to support one another and to stabilize the jawbone. If one tooth is compromised, then the neighboring teeth are also considered to be compromised. Damage and infection can quickly spread from tooth to tooth if the problem is not taken care of immediately.
If you or a loved one experience a broken tooth, you need to follow these steps from the American Dental Association:
If a piece has broken off from your tooth, find the piece and place it in a small amount of milk or your own saliva to keep it moist.
Rinse your mouth with warm water to clean it. If you are experiencing a lot of bleeding, apply pressure to the area to help stop the bleeding.
Contact your dentist right away!
If you are in severe pain, ask your dentist about taking an over-the-counter pain reliever to reduce your pain until you can see the dentist.
Place a cold compress on the outside of your face to help reduce swelling.
Don't panic!
A broken tooth is a common occurrence that dentists nationwide treat every day. It can be a very devastating thing to experience, but your smile can be restored.
At Ora Dentistry, we offer a full spectrum of dental care services. We are here to help you achieve, maintain, and restore optimal oral health. If you have suffered a broken tooth, please contact our practice right away. We are here to help you!
Posted on behalf of Ora Dentistry
2733 Elk Grove Blvd, Suite 180
Elk Grove, CA 95758
Phone: (916) 975-1000
Email: [email protected]
Monday - Thursday 7:00am - 5:00pm
Friday 7:00am - 4:00pm