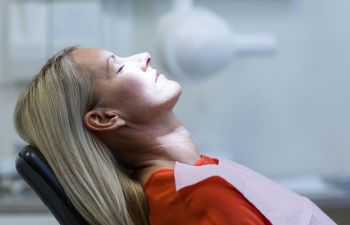 For some individuals, visiting the dentist is stressful. In fact, those with dental anxiety often forego seeing the dentist at all. Yet, dental professionals want patients to know—you can experience painless dental treatments with sedation dentistry. Colgate reports that even the most severe form of dental phobia is no reason to avoid the dentist, as options in sedation make it possible to remain comfortable during a dental appointment.
Ora Dentistry provides top quality dental care in a comfortable, rewarding environment. Consider the following forms of sedation dentistry offered at our Elk Grove practice.
Nitrous Oxide

As a common form of sedation dentistry, Nitrous Oxide is administered through a mask over a patient's nose. The gas aids in relieving anxiety, yet patients remain wide awake and are able to drive themselves home following their treatment. Also called "laughing gas," nitrous oxide is safe and effective for children and adults alike.

Oral Conscious Sedation

Depending upon the extent of a patient's anxiety and the dental treatment that is performed, patients might require a moderate level of sedation. Oral conscious sedation is taken in pill form prior to a dental visit. While patients remain awake during treatment, they are deeply relaxed. Because the effects of oral sedation last longer, patients are advised not to drive themselves home following their visit.

IV Sedation

As a solution for patients with severe anxiety, lengthy dental treatments or those with special needs and accommodations, IV Sedation puts patients into a sleep state while dentists perform their treatment.
At Ora Dentistry, we believe that no one should fear getting the dental care that they need for the healthy, beautiful smile they deserve. That's why we make every effort to help you relax with a variety of amenities to compliment your visit, including heated pillows, flat screen televisions, wireless headsets and personalized programs to watch during your treatment. What's more, we provide specialized sedation dentistry options to help you keep calm and relax.
Posted on behalf of Ora Dentistry
2733 Elk Grove Blvd, Suite 180
Elk Grove, CA 95758
Phone: (916) 975-1000
Email: [email protected]
Monday - Thursday 7:00am - 5:00pm
Friday 7:00am - 4:00pm