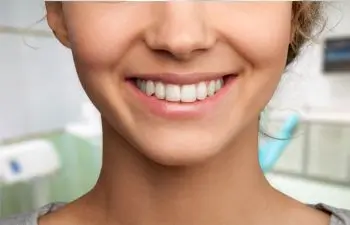 At Ora Dentistry, we offer professional teeth whitening for maximum results. Zoom Teeth Whitening is performed in our office and will whiten teeth several shades whiter in about an hour. The process is safe, effective and easy for our patients.
As you age, your teeth usually begin to fade and become less brilliant and bright. Your enamel dulls and your teeth become porous. This results in a yellowish or even gray color that easily reveals your age. Teeth whitening is common for our older patients, but did you know that your teen might want a whiter smile as well?
We've seen teen patients excited about getting their braces removed from the orthodontist, only to suddenly be disappointed when they notice a discoloring of their teeth. The braces themselves do not discolor the teeth. The brace maze of brackets and wires can trap food (if not properly cleaned and flossed). This leads to plaque formation allowing it to produce acids that leach the minerals away from enamel. This process is called demineralization and it affects the reflection of light to be distorted. Your teen's teeth may form white spots in those hard to reach areas.
In addition to discolored teeth, teens begin signing up for social media accounts where they will post selfies. Your teen will become self-conscious of any variations of their brilliant white teeth.
Zoom Teeth Whitening is not only for adults, consider discussing its benefits with our dental professionals at Ora Dentistry. Dr. Devan Dalla will determine if our teeth whitening system is right for you and your teen. Call and book your teeth whitening with Ora Dentistry today!
Posted on behalf of Ora Dentistry
2733 Elk Grove Blvd, Suite 180
Elk Grove, CA 95758
Phone: (916) 975-1000
Email: [email protected]
Monday - Thursday 7:00am - 5:00pm
Friday 7:00am - 4:00pm